U-32 Class of 1984 20th Reunion
Thanks for the great time !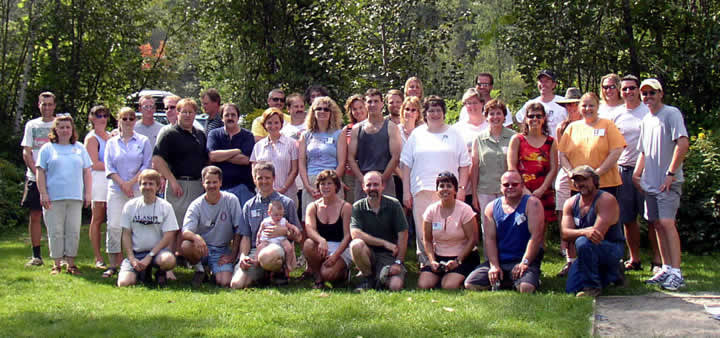 See other pictures from the reunion !
Please take a brief survey (before 11/18) to give us suggestions, feedback
and plan for our next reunion !
Coming soon....how to contribute to our class fund (to support this site and the planning for our next reunion !)

Special thanks to all the organizational and logistical help provided by Karen and Stuart Ormsbee, Shannon Haggett, Ben Miller, Karla Galfetti Smith, Karen Foote, Sue Day, Keith and Amy Brown, Ford Marden, Jessica Lamberton, Steve Towne and Corinne (Cooper) Stridsberg.
Sorry if we've forgotten anyone !
Thanks also to everyone who contributed to the hosting cost of keeping this website up and running !
Thanks to everyone who came !
(48 Classmates, 70+ adults, 45+ kids, plus 1 former TA (thanks Barb!))
| | |
| --- | --- |
| Karen (Hanna) Allen | Richard Hall |
| David Batchelder | Lori (Forrend) Hayer |
| Megara Bell | Paul Jerome |
| Diane (Montague) Belliveau | Kathy (Hull) Karr |
| Jamie Bolduc | John Krupa |
| Andrew Brewer | Jeff Larkin |
| Ben Bristow | Keith Mailhotte |
| Keith Brown | Jim McKinstry |
| Amy (Irish) Brown | Ben Miller |
| Jodi-Lyn (Laperle) Brown | Andre Montour |
| Neil Carbo | Brian Morse |
| Chris Clarke | Karen (Fisk) Ormsbee |
| Bill Clifford | Stuart Ormsbee |
| Susan Day | Ellery Packard |
| Julia (Lang) DeRosia | Mike Potter |
| Joanne (Ouimet) Ducas | Mindy (McCarthy) Precourt |
| Deborah (Tomasello) Emmons | Martha (McGinnis) Ribolini |
| Les Felch | Keith Schumacher |
| Shaun Fielder | Karla (Galfetti) Smith |
| Karen Foote | Robert Stearns |
| Debbie (Barbieri) Gattone | David Stridsberg |
| Renato Gomez | Steve Towne |
| Mark Gosselin | Bert Wendel |
| Shannon Haggett | Lisa (Seaman) Wright |
Click here for full list of classmates or
here for Pre-Reunion information